Get a Gander at All These Geese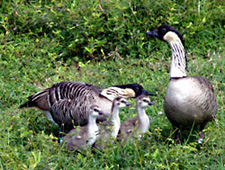 NPS photo by Kathleen Misajon
Hawai`i Volcanoes News Release
Date: May 18, 2006
Contact: Mardie Lane, Park Ranger (808) 985-6011
"Hawai'i Volcanoes National Park is celebrating the most successful nene breeding season ever," said Superintendent Cindy Orlando. Adult nene have obviously been very busy this year raising a total of 36 fledglings (goslings that survived to take their first flight). Compared to a past average of 15 a year, 2006 truly qualifies as a gosling boom.
According to park biologist Kathleen Misajon, "Weather had a lot to do with it." During the critical months of October through December, there was enough rain to keep vegetation green and growing, but not so much that nests flooded and goslings perished from the wet and cold.
In addition to favorable weather, several other factors contributed to the incredible success of this breeding season. The attentiveness of staff and reports from visitors helped the park's nene recovery team monitor and take action to protect the families that nested around Kilauea's summit caldera and Ka'u Desert.
New "Nene Crossing" signs alerted drivers to the presence of geese that frequented park roadways. James Brogan of Signs Hawai'i in Honolulu donated fourteen signs after he heard of the theft of two nene signs from the park in 2004. "We credit his signs with playing a critical role in the survival of one family who regularly crossed Crater Rim Drive in search of food for their three goslings," said Misajon. "The goslings fledged and are the first to survive from the Devastation Trail area in ten years."
At 'Ainahou, a mid-elevation woodland on Kilauea, staff regularly inspected and maintained the integrity of a 420-acre fenced exclosure that protected ten families from predation by feral pigs. Four other nene families found refuge in a 13-acre exclosure built to keep out feral cats and small Indian mongooses.
Park partners and neighbors also played an important part in this year's success. During the past five years, an infusion of young birds reared at the Keauhou Bird Conservation Center into the park population has significantly boosted the number of breeding pairs. These releases, coupled with the relative success of the past several breeding seasons, have increased the number of young birds in the park. The geese are now reaching reproductive maturity and beginning to produce offspring. Seven new pairs successfully raised goslings for the first time contributing a total of 12 fledglings to this year's count.
At least four goslings fledged from the lush green pastures of Kapapala Ranch on the park's western boundary.
Now that nesting season has ended, flocking season has begun and birds are congregating at prime feeding locations to fatten up for the fall breeding season. Families socialize, young birds meet the rest of the flock, and single birds size up potential mates.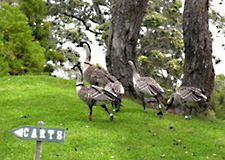 Photo by Lanaya Deily
For some nene, the grass really is greener on the other side and Volcano Golf and Country Club is a favorite flocking area. The island's oldest golf course provides acres of nutritious blades of grass. Groups of 25 or more birds have already been seen lazing and grazing on the fairways.
Although this provides a wonderful opportunity to see our State Bird, nene that congregate near Pi'i Mauna Drive and other roads through the golf course are at risk of being injured and killed by cars. The young birds can be especially curious and fearless in their encounters with humans.
The park is working with the Volcano Golf and County Club and County of Hawaii to increase nene awareness in the area. New "Slow for Nene" signs will soon be installed and educational information distributed to golfers.
You too can help protect the nene that gather at the golf course.
Don't feed nene. Birds seeking handouts fall prey to oncoming vehicles. The equation is simple, sad, and all too often true: a fed nene = a dead nene.

Slow down and watch out for nene. Nene tend to gather near the road and their grayish coloration makes them difficult to see.

Dogs are not allowed on the golf course. Keep dogs off the course and always walk them on a leash. Dogs have attacked nene.

Share the course. Gently shoo the birds out of harm's way before playing through.
"The flocks of wild geese seen flying overhead and gathering at the golf course are a testament to the success of this year's breeding season," said Misajon. "When it comes to nene survival, we all make a difference. Our continued care and vigilance will help ensure a future for these rare birds."
EXPERIENCE YOUR AMERICA™

The National Park Service cares for special places saved by the American people so that all may experience our heritage.