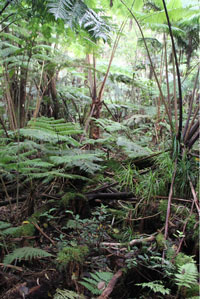 Non-native goats, pigs, sheep, mouflon sheep, axis deer and cattle destroy habitat, degrade watershed, inhibit native forest regeneration, cause loss of sensitive native species (including state and federally listed threatened and endangered species), and have potential to damage archeological sites and cultural landscapes.
Hawaiʻi Volcanoes provides habitat for more than 50 native species that are federally listed as threatened, endangered, or are candidates for either list. Among these are the Kaʻū silversword, Hawaiʻi creeper, and nēnē.
The park has actively managed non-native ungulates since the 1920s, allowing for the recovery of native species in many areas of the park. The park's current EIS addressing ungulate control is more than 30 years old. The new plan/EIS will provide a park-wide framework to guide non-native ungulate management activities over the next decades that considers the recently acquired Kahuku unit, new invasive species challenges, and current NPS policy and guidance. Using the initial comments received by the public and incorporating input from a team of scientists, the National Park Service has developed a range of management alternatives. The no action and four action alternatives were analyzed for impacts on natural and cultural resources and the broader human environment, and the analysis is included in the draft plan/EIS now available for public comment.