General Management Plan/Wilderness Study/Environmental Impact Statement
Work Continues on Preliminary Alternatives for General Management Plan/Wilderness Study/EIS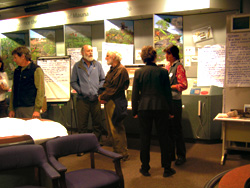 NPS Photo
The GMP/Wilderness Study will document a management vision for the entire park, including Kahuku, and serve as a guidebook for the future. The NPS has included a wilderness study to analyze whether NPS-managed lands within the park should be recommended for inclusion in the National Wilderness Preservation System. As part of this added scope of the project, additional public input related to wilderness was requested during review of the preliminary alternatives.
The preliminary alternatives developed by the park planning team are based on previous public comments, federal law and NPS policy, as well as the professional knowledge of park staff. The alternatives detail a menu of topics including conservation of the park's natural resources and cultural significance, location of visitor and operations facilities, new or connecting trails, sustainable and climate-friendly operations, education, research, and visitor access and services at the Kahuku Unit. Wilderness eligible lands in Kahuku are also discussed.
Please see GMP newsletter #3 for a description of the preliminary alternatives and wilderness study.
Please see Summary of Public Comments on GMP/Wilderness Study Preliminary Alternatives to read the latest public comments in 2012.
If you would like to be added or removed from our park planning mailing list or if your contact information has changed, please let us know. Please enter your complete information and state either 'add to list', 'remove from list' or 'update information' in the 'Comments' field.
Click 'here' to update your information or request to be added or removed from our mailing list.
What is a General Management Plan?
A General Management Plan will answer "What kind of place do we want this park to be?" It will serve as a guidebook for the future to help managers make decisions about how to protect resources, what levels and types of uses are appropriate, what facilities should be developed and how people should access the park. Everything in the plan must be consistent with the park's purpose and significance and the legislation that established the National Park Service in 1916, providing for protection of the park's natural and cultural resources while inviting appropriate visitor use and enjoyment of the park.
The plan will not include detailed building designs or be able to guarantee funding, but it will serve as a blueprint that the NPS intends to follow for the next 15-20 years. The GMP will not include an Environmental Impact Statement (EIS). The environmental and socioeconomic impacts of the various alternatives will be analyzed in the EIS.

What is a Wilderness Study?
Lands and waters found to possess the characteristics and values of wilderness are formally studied for possible recommendation to Congress for wilderness designation. The Wilderness Study for Hawaii Volcanoes National Park will take a fresh look at wilderness potential in the park, particularly Kahuku. Wilderness potential is based on the four qualities of wilderness character and values which are defined in the 1964 Wilderness Act and include: Untrammeled, Natural, Undeveloped, Solitude or Primitive and Unconfined Recreation. The GMP/Wilderness Study will develop a range of alternatives that could result in recommendations that may alter the existing boundaries of the park's 130,950 acres of designated wilderness. The combined GMP/Wilderness Study will be supported by a single environmental impact statement (EIS). Any new federal designation of wilderness would require an act of Congress.
GMP Newsletter No. 3: Preliminary Alternatives

We would like to hear your comments. Read More

Public Comments

2012 Summary of Public Comments Read More

PEPC

Planning, Environment and Public Comment web site Read More

GMP Email List

Subscribe to the GMP Email List by selecting the link half way down this page