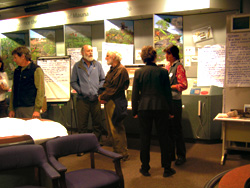 NPS Photo
The GMP/Wilderness Study will document a management vision for the entire park, including Kahuku, and serve as a guidebook for the future. The NPS has included a wilderness study to analyze whether NPS-managed lands within the park should be recommended for inclusion in the National Wilderness Preservation System. As part of this added scope of the project, additional public input related to wilderness was requested during review of the preliminary alternatives.
The preliminary alternatives developed by the park planning team are based on previous public comments, federal law and NPS policy, as well as the professional knowledge of park staff. The alternatives detail a menu of topics including conservation of the park's natural resources and cultural significance, location of visitor and operations facilities, new or connecting trails, sustainable and climate-friendly operations, education, research, and visitor access and services at the Kahuku Unit. Wilderness eligible lands in Kahuku are also discussed.
Please see GMP newsletter #3 for a description of the preliminary alternatives and wilderness study.
Please see Summary of Public Comments on GMP/Wilderness Study Preliminary Alternatives to read the latest public comments in 2012.