No Potable Water Available in Kipahulu

Due to a leak in the main waterline in Kīpahulu there is no potable water in Kīpahulu for the foreseeable future. The leak was discovered on July 23, 2014 during routine inspections. Visitors should bring their own drinking water.
For your safety

The Summit and Kīpahulu Districts are remote. An ambulance can take up to 45 minutes to arrive at either district from the nearest town. People with respiratory or other medical conditions should also be aware that the summit of Haleakalā is at 10,000 ft.
Drive cautiously - Endangered birds land on roadway

Nēnē (Hawaiian geese) are nesting in the park and may land on or frequent park roads and parking lots. Drivers are reminded to drive at the posted speed limits and exercise caution.
Volunteer Opportunities
Many volunteer opportunities are available at Haleakala National Park. All volunteer positions must be applied for on-line - just click on the position title to begin. Applicants must list specific and relevant experiences to qualify for positions requiring specialized skills. Please note that incomplete applications will not be considered.
Current Volunteer Opportunities
Did You Know?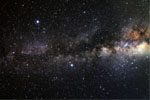 The Summit District of Haleakalā National Park is one of the best places in the world to view the night sky. Stick around after your hike to experience top-notch stargazing.