Water shortage at summit

The visitor center nearest the summit is very low on water. Please use the toilets at Headquarters Visitor Center near the park entrance if possible.
Drive cautiously - Endangered birds land on roadway

Nene (Hawaiian geese) and 'ua'u (Hawaiian petrels) are nesting in the park and may land on or frequent park roads and parking lots. Drivers are reminded to drive at the posted speed limits and exercise caution.
Haleakala Visitor Center Parking Lot Rehabilitation In Progress

During construction, parking spaces at Haleakala Visitor Center (near the summit) will be reduced by at least 50%. Construction is scheduled for May 20 through June 6. Visitors and tour operators may experience delays. More »
Swimming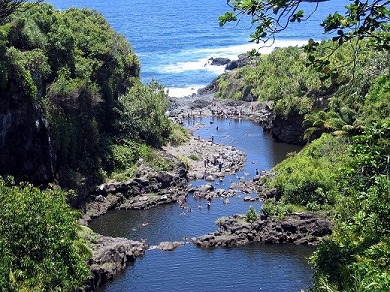 Swimming is possible in the Kīpahulu Area (coastal) of the park - but only when conditions allow. The freshwater pools at ʻOheʻo Gulch are prone to very dangerous flash floods caused by heavy rains high on the mountain. Injuries and deaths have occurred. Always check at the visitor center for current conditions before entering the water, obey all posted signs, and use your best judgement.
Pets are prohibited in the 'Ohe'o Gulch area.
Do not jump or dive into the pools.
Do not bring glass bottles or containers to the 'Ohe'o Gulch area.
Haleakalā National Park is a changing landscape with inherent and unpredictable natural hazards. This landscape is subject to constant change from natural forces including erosion, weather, earthquakes, and currents. The National Park Service has limited ability to monitor and no ability to conrol these forces. Be aware of the following hazards:
Trails and pools:
- Flash flooding (water can rise as fast as 4 feet in 10 minutes resulting in people washed out to sea and drowning)
- High water and flow
- Slippery rocks
- Rock falls (in gulches and below waterfalls)
- Fall hazards (from overlooks, ledges, jumping, and diving)
- Water quality (Leptospirosis, E. coli)

Ocean:
- Shore break
- Rip currents
- Rough surf
- Strong currents
- Sharks
In the event of an injury, medical assistance can take up to one hour to arrive from the nearest towns.


Flash Flood Warning

Waters can rise many feet in a matter of seconds. Turn around - don't drown!
Did You Know?
While native species once arrived every 30,000 years, today a new species hitchhikes to Hawaiʻi about once every 20 days. Many of these amazing travelers can be found in Haleakalā National Park.