No Potable Water Available in Kipahulu

Due to a leak in the main waterline in Kīpahulu there is no potable water in Kīpahulu for the foreseeable future. The leak was discovered on July 23, 2014 during routine inspections. Visitors should bring their own drinking water.
For your safety

The Summit and Kīpahulu Districts are remote. An ambulance can take up to 45 minutes to arrive at either district from the nearest town. People with respiratory or other medical conditions should also be aware that the summit of Haleakalā is at 10,000 ft.
Drive cautiously - Endangered birds land on roadway

Nēnē (Hawaiian geese) are nesting in the park and may land on or frequent park roads and parking lots. Drivers are reminded to drive at the posted speed limits and exercise caution.
Directions
Located on the island of Maui, Haleakalā National Park extends from the 10,023 foot (3055m) summit of Haleakalā down the southeast flank of the mountain to the Kīpahulu coast near Hāna. These two sections of the park are not directly connected by road, but both can be reached from Kahului.
Please note that there are no gas stations within the park. The last place to get gas in route to the Summit Area is in the town of Pukalani. If you are heading to the Kīpahulu Area, the last place to get gas along the Hāna Highway before Hāna is in the town of Pāʻia.

There is no public transportation available either to or in the park.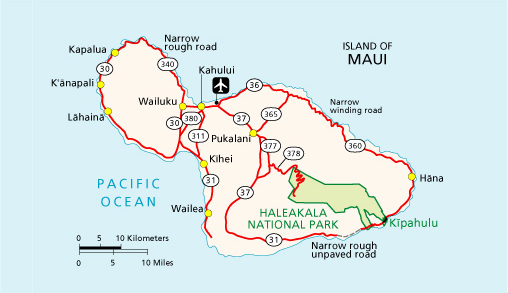 To the Summit Area (mountain):

Park headquarters and the 10,023 foot (3055m) summit can be reached from Kahului via Route 37 to 377 to 378. Driving time to the summit from Kahului is approximately 1.5 hours.

Global Positioning System address: 30,000 Haleakala Hwy, Kula, HI 96790; add 10 miles to reach the park entrance.
To the Kīpahulu Area (coastal):
Kīpahulu is reached via Route 36 to 360 to 31. Driving time from Kahului is approximately 3 hours.
Global Positioning System address: Mile Marker 41 Hana Hwy, Hana, HI 96713


Did You Know?

Bamboo is one of the non-native plants you will see when you hike the Pīpīwai Trail in the Kīpahulu District of Haleakalā National Park. The extensive bamboo forest provides a unique array of sights and sounds along the trail. More...