For your safety

The Summit and Kīpahulu Districts are remote. An ambulance can take up to 45 minutes to arrive at either district from the nearest town. People with respiratory or other medical conditions should also be aware that the summit of Haleakalā is at 10,000 ft.
Drive cautiously - Endangered birds land on roadway

Nēnē (Hawaiian geese) are nesting in the park and may land on or frequent park roads and parking lots. Drivers are reminded to drive at the posted speed limits and exercise caution.
Photos & Multimedia
Olelo Ola (Living Words)-
The National Parks of the Pacific Islands bring you a blog centered around the legacy, culture, and environment of the Islands.
Haleakalā National Park is now on Facebook! Click here to visit our Facebook page.
Haleakalā National Park is now on Twitter! Click here to visit our Twitter page.
Listen to the sounds of our endangered seabird, 'Ua'u, at the top of Haleakalā. Click here to watch the video.


Did You Know?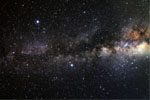 The Summit District of Haleakalā National Park is one of the best places in the world to view the night sky. Stick around after your hike to experience top-notch stargazing.