No Potable Water Available in Kipahulu

Due to a leak in the main waterline in Kīpahulu there is no potable water in Kīpahulu for the foreseeable future. The leak was discovered on July 23, 2014 during routine inspections. Visitors should bring their own drinking water.
For your safety

The Summit and Kīpahulu Districts are remote. An ambulance can take up to 45 minutes to arrive at either district from the nearest town. People with respiratory or other medical conditions should also be aware that the summit of Haleakalā is at 10,000 ft.
Drive cautiously - Endangered birds land on roadway

Nēnē (Hawaiian geese) are nesting in the park and may land on or frequent park roads and parking lots. Drivers are reminded to drive at the posted speed limits and exercise caution.
Headquarters Visitor Center Parking Lot Closed for Accessibility Improvements
Date:
July 26, 2013
The Headquarters Visitor Center passenger car parking lot, at the 7000 foot elevation in Haleakalā National Park, will close for accessibility improvements starting at 7:30am on Monday, July 29, through Tuesday, August 13. Vehicles remaining in the lot after 7:30am Monday will be ticketed and towed. The restrooms, visitor center, and bus parking will remain open. During heavy traffic, signs at the park entrance station will direct passenger cars to alternative short term parking, restrooms, and an information tent, along the narrow Hosmer Grove Road. Back country camping and cabin permits and general information will be available at this tent.
Accessibility improvements in the summit area of Haleakalā are scheduled through September 2013. The work is occurring during summer because asphalt must be poured and set during the warmest, driest time of year. Visitors and residents should expect continued heavy construction traffic on Haleakalā Highway and Crater Road. For the latest updates please check www.nps.gov/hale or call 572-4400.
Did You Know?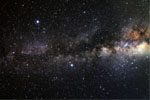 The Summit District of Haleakalā National Park is one of the best places in the world to view the night sky. Stick around after your hike to experience top-notch stargazing.