Call for Cultural Practitioners at Haleakala National Park
Date:
March 5, 2014
Haleakalā National Park seeks cultural practitioners for a series of cultural demonstrations that will be offered in the Kīpahulu District of the park beginning in mid-June 2014.
Through support from the park's non-profit partner, the Hawai'i Pacific Parks Association, an honorarium of $200 will be offered to each group of practitioners.Cultural demonstrations will occur between 1pm and 3pm on the second and fourth Saturdays of each month, starting on June 14 and ending on August 23. These demonstrations may include hula, music, or native crafts.
Applications can be found at any Haleakalā National Park visitor center or online at www.nps.gov/hale/supportyourpark. (Click on the "2014 Call for Cultural Practitioners" link). The deadline to apply is April 18, 2014.
Did You Know?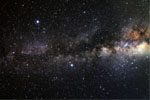 The Summit District of Haleakalā National Park is one of the best places in the world to view the night sky. Stick around after your hike to experience top-notch stargazing.