No Potable Water Available in Kipahulu

Due to a leak in the main waterline in Kīpahulu there is no potable water in Kīpahulu for the foreseeable future. The leak was discovered on July 23, 2014 during routine inspections. Visitors should bring their own drinking water.
For your safety

The Summit and Kīpahulu Districts are remote. An ambulance can take up to 45 minutes to arrive at either district from the nearest town. People with respiratory or other medical conditions should also be aware that the summit of Haleakalā is at 10,000 ft.
Drive cautiously - Endangered birds land on roadway

Nēnē (Hawaiian geese) are nesting in the park and may land on or frequent park roads and parking lots. Drivers are reminded to drive at the posted speed limits and exercise caution.
2013 Middle School Internship Recruitment
Date:
December 5, 2012
Haleakalā National Park is now accepting applications for Kupukupu 'Āina, an internship program geared for middle school students in grades 6-8, which will take place from March 18-22, 2013. There is no fee to participate in the program.
The week-long internship is designed to introduce local youth to park programs and generate interest in careers related to natural resources management, interpretation, and facilities management. Twelve students will be selected through a competitive process to participate in activities that will afford them opportunities to gain hands-on experience working alongside professional staff such as: Native plant identification; invasive weed control; facilities maintenance; guided hikes; and, outdoor safety education.
National Park Service officials believe that the program will provide critical stepping stones to helping youth develop marketable skills and professional contacts, as well as general knowledge and appreciation for Hawai'i's natural areas and species, some of which are the world's best examples of endemism and adaptive radiation.
This is the second year of the middle school program. Kupukupu 'Āina is one of three internship programs that were created at Haleakalā National Park in 2011. The others include Pōhai Maile, a high school summer program, and 'Imi i ka Lama, an 8-week program also held during the summer months for college-age students.
Interested students must be Hawai'i residents and available full-time between March 18-22, 2013. Program hours are 7:30 a.m. to 4:00 p.m., not including travel time to and from the park. Free transportation to the park will be provided from designated sites. Interns are eligible to receive a living allowance of $25 per day to help offset the cost of equipment and supplies they will need for the program.
Haleakalā National Park encompasses two regions: The Summit District on the upper slopes of Haleakalā, which reaches elevations between 7,000-10,000 feet and the Kīpahulu District that stretches along the beautiful coast of East Maui.
Additional details and application packets may be obtained by contacting the park's Internship Coordinator, Kūhea Paracuelles, at (808) 572-4452 or Kuhea_Paracuelles@nps.gov. The deadline to apply is January 31, 2013.
Did You Know?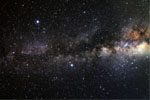 The Summit District of Haleakalā National Park is one of the best places in the world to view the night sky. Stick around after your hike to experience top-notch stargazing.