Drive cautiously - Endangered birds land on roadway

Nēnē (Hawaiian geese) are nesting in the park and may land on or frequent park roads and parking lots. Drivers are reminded to drive at the posted speed limits and exercise caution.
For your safety

The Summit and Kīpahulu Districts are remote. An ambulance can take up to 45 minutes to arrive at either district from the nearest town. People with respiratory or other medical conditions should also be aware that the summit of Haleakalā is at 10,000 ft.
Natural Features & Ecosystems
NPS Photo - Stacey Torigoe
Haleakalā, rising from the sea to a 10,023 foot summit, and exposed to both the windward moist tradewinds and leeward drying air, has a variety of natural ecosystems. Wind, rain, temperature and altitude all play a role in shaping each zone, as well as bringing plants and animals here. Visit the Plant Communities page for more information on the diverse plants in each ecosystem you might see.
The alpine aeolian zone seems barren. The porous, rocky, dry surface has wide temperature range between day and night. Only a few species survive this tough environment. Silverswords stand out in this open landscape.
Subalpine shrublands cover broad areas below the alpine zone. Native shrubs like pukiawe, mamane, ohelo and pilo are dominant. Nēnē, the native Hawaiian goose, are locally conspicuous in the shrublands.
Lower, on the windward slopes with rainfall of 120 to 400 inches annually, rainforest prevails. Above 3,000 feet elevation the rainforest is largely native species with ʻōhiʻa and koa forming a closed canopy. Here, native Hawaiian honeycreepers sip nectar from native trees and flowers.
NPS Photo - Stacey Torigoe
Below the shrub zone dry forest occupies the drier leeward slopes, with less than 60 inches of rain. Fire and alien ungulates have devastated most of Maui's dry forest. Only small patches are found within the park.
The ʻOheʻo stream ecosystem crosses several life zones. ʻOheʻo stream, with its entire length within the national park is one of very few completely natural riparian habitats in Hawaiʻi. Native fish and shrimp are stream residents.


Did You Know?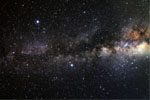 The Summit District of Haleakalā National Park is one of the best places in the world to view the night sky. Stick around after your hike to experience top-notch stargazing.