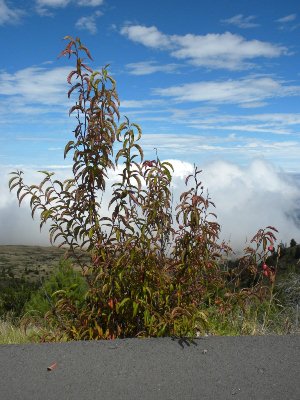 NPS Photo
Invasive pines (Pinus spp.), for example, take up water and nutrients, shade out native shrub species, and drop allelopathic needle litter. Left unchecked, the pine forests at Hosmer Grove and in the Waikamoi Preserve would eventually spread into the shrubland and crater, dispersed on the wind.
Losing native plants to invasives means a loss of native habitat for birds like the nene and the i'iwi, the loss of unique plants that are of great cultural value to Native Hawaiians, and the loss of species that are found nowhere else in the world, many of which are already on the brink of extinction.
Some invasives were deliberately planted by people-the pines and eucalyptus (Eucalyptus globulus) trees at Hosmer's Grove were planted by Ralph Hosmer in 1909 as an experimental reforestation project. Ornamentals like kahili ginger (Hedychium gardnerium) were planted in gardens, and then escaped when birds spread their attractive seeds. Others, like fireweed (Senecio madagascarensis), were unintentionally carried in on the wind, vehicles, construction soil fills, and boots.
You can help stop the threat of invasive plants at Haleakala by:
brushing off your boots to remove weed seeds before hiking in the park
carrying out rubbish like apple cores, peach pits, and berries, that might contain seeds
staying on trail to preserve fragile native plants and minimize your impact on the landscape
reporting unusual invasive plants to park staff (download invasive plant ID cards here, PDF - 1MB)