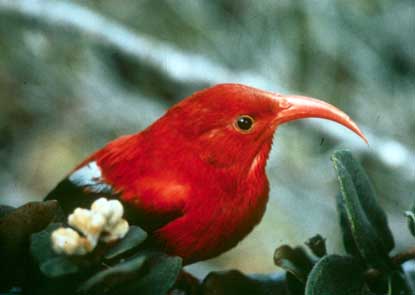 Photo by Paul Banko.
Hawaiʻi's renowned honeycreeper family of birds, all closely related, have evolved into strikingly different species. Likely their common ancestors were lone accidental arrivals to these isolated islands. Then, their offspring fitting into different physical habitat niches, favored those individuals whose physical variation gave them best survival ability. Now, though genetically related, the honeycreepers physical shapes are as varied as woodpeckers and parrots on the mainland. This ʻiʻiwi (above) is well adapted to extract nectar from lobeliad type flowers.
Protected by park managers from feral ungulates and predators, Haleakalā is one of the very few last sanctuaries for these unusual and very rare native Hawaiian birds.