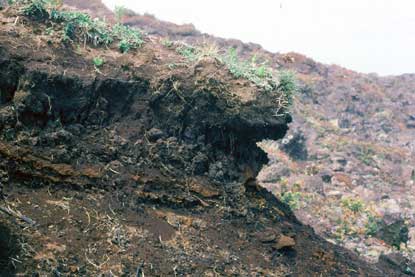 NPS photo by Bryan Harry
Rainforests on Haleakalā's steep windward slopes receive as much as 120 inches of annual rainfall. These forests are stable and enduring when not subject to depredation by pigs and goats. Ungulate's rooting and grazing quickly break down the native plant cover triggering devastating erosion. Such landscape scale erosion on tropical mountain slopes devastates both the native biodiversity and the island's precious groundwater reserve.
But Haleakalā upper elevations are now free of pigs and goats, and serves as a core area in the East Maui Watershed Partnership to protect this native rainshed and its groundwater from this destruction.