Field Trip Program
Third Grade Field Trip Program: Who Lives at Haleakalā National Park?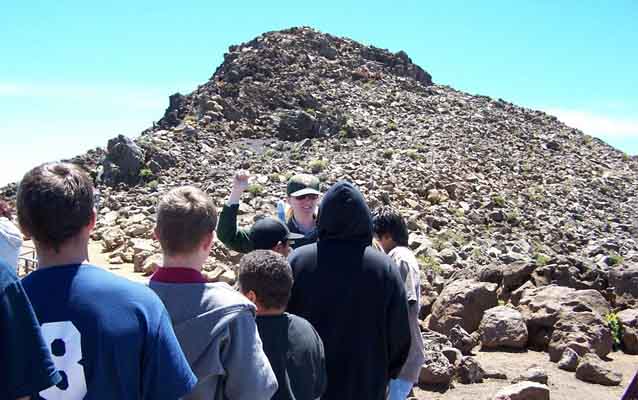 NPS
Description
This Environmental Education program is designed for third-grade school groups and an introduction to the living miracles in the back yard of Island students. Program themes include: Native or Alien Species, Adaptations, and Habitat. There will be Pre-visit Activities provided to help students prepare and enjoy their journey.
•Be ready to hike in hot and/or cold weather (raingear or poncho). Bring food, snacks, water (drinks), closed-toe shoes is best, and needed medications.
•Fee waivers are available for educational field trips.
•There is no charge for this program.
•We must receive your request at least one month prior to your proposed visit.
•Tell us your proposed group size, grade level, and the best dates for your visit.
Use the pull down menu below to see available dates for field trip programs. The best way to reserve a date is to contact the park's environmental education coordinators directly:
Honeygirl Duman or Katelyn Thomson
808-572-4451
nps_hale_eec@nps.gov
Contact
Honeygirl Duman or Katelyn Thomson
(808) 572-4451
Details
Subject:

Agriculture, Anthropology, Archaeology, Astronomy, Biology: Animals, Biology: Plants, Botany, Chemistry, Civic Engagement, Climate, Climate Change, Conservation, Earth Science, Ecology, Environment, Geology, Historic Preservation, History, Landscapes, Marine Biology, Meteorology, Oceanography, Physical Science, Public Policy, Reading, Social Studies, Space Science, Tectonics, Textiles, Volcanoes, Wildlife Biology, Wildlife Management, Writing

National/State Standards:

Based on Hawaii State Department of Education standards

type:

Field Trip Program
Experience More
on NPS.gov
Lesson Plans
Distance Learning
Field Trips
Topics