Visitor Center
The visitor center is open 9 a.m. to 5 p.m. Wednesday through Sunday.
Permanent exhibit gallery covering some of the major events in Alexander Hamilton's life
Bookstore/gift shop
A brief film highlighting Alexander Hamilton's life in our 25-seat theater.
Restroom
Historically Furnished Rooms
Visitation to the historically furnished floor is limited to a maximum of 15 people at a time.
Visitors have two options for visiting the historically furnished rooms.
The first is a ranger-guided tour and talk scheduled for 10 a.m., 11 a.m, 2 p.m. and 4 p.m.
Please Note: We recommend arriving at least 1/2 hour before your intended tour time in order to view our 20 minute introductory film on the life of Alexander Hamilton.
The second is a relatively self-guided experience where visitors will be able to view the rooms at their own pace with a Park Ranger nearby to answer questions.
The self guided experience is scheduled for two 1-hour periods, 12-1p.m. and 3-4 p.m.
Learn how to schedule a weekday (Wednesday-Friday) school visit here.
Grounds at Hamilton Grange
The surrounding grounds are part of the Hamilton Grange experience and maintain the same operating hours. They are a contemplative space in which to reflect on the life and legacy of Alexander Hamilton. Feel free to stroll around the grounds, read and engage in other quiet activities.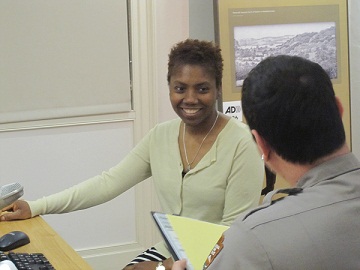 Share Your Story
The National Park Service is offering the opportunity for visitors to be recorded on video for a few minutes to talk about their memories and thoughts about the Grange and the immediate neighborhood. Some of these stories may be shared with other visitors in the future so they can learn and understand more about the community that has hosted the Grange for so many years.
The Grange has witnessed the growth of Harlem from a sleepy rural summer retreat for New York City's elite to the iconic urban community it has become today. Millions of people have been neighbors and visitors over the years, and we want to capture some of the personal stories they have about the Grange, its place in Harlem at its old location and its dramatic move to its new location in St. Nicholas Park.
Participation is by reservation, and recording takes place on the first floor of the house. A staff member will guide the participant through the process, and take care of all the technical aspects.
Reservations are accepted for 15 minute blocks, and are offered twice a day from 12pm-1pm & 3pm-4pm. You must reserve at least two weeks in advance and receive a written confirmation you should bring with you for your recording.
We encourage anyone, young or old, neighbor or visitor, who would like to share the impressions the Grange has made on them in their life, and the legacy of Alexander Hamilton. Please call to make a reservation (646)-548-2310