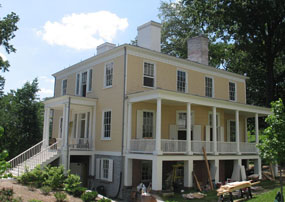 NPS Photo
Video Snapshots:
May 27, 2008
On May 27, 2008, Wolfe House & Building Movers began the delicate task of sliding the 298-ton Hamilton Grange National Memorial over the front porch of St. Luke's Episcopal Church on a railing system nearly 40 feet in the air. The process, which actually took several hours, was accomplished with the aid of the lo-tech and high-tech methods. Chains, clamps and towers of wooden supports kept the Grange stable. Hydraulic jacks pushed it incrementally along the steel I-beams. After each push, the jacks had to be moved forward to the next one, until the building finally reached the end of the rails and descended to street level.
See video downloads, using Quicktime:
Day 1
Day 2
Day 3
Day 4
The Grange Move - Day by Day

13 Photos

Photos of the Grange as it moves from Convent Avenue to its new location at St. Nicholas Park in New York City. Starting June 7, 2008 we will post photos of the move daily at this site. Check back often to watch the progess.