Snake River Overlook Closed

The Snake River Overlook is closed for renovation. It is planned for reopening by the spring of 2014.
Plan Your Visit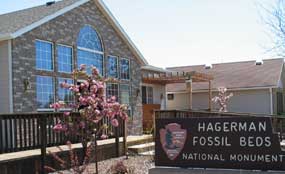 NPS Photo
When visiting Hagerman Fossil Beds NM we recommend you stop at the Visitor Center to begin your visit. There you get the latest information, see an introductory DVD, view fossils up close, and obtain helpful information about the amenities available in the area.

Did You Know?

An in situ specimen of Clemmys owyheensis (pond turtle) was found out in the Monument. The field crew also found a jaw with several teeth from Thomomys gidleyi (pocket gopher) and a jaw from Trigonictis idahoensis (grison from the weasel family).