Temporary Suspension of Reference Collection Research

Due to the park archives and research room/library space move, new public research requests will not be filled until at least June 30th, 2014.
Change in Park Hours

The park is currently open daily from 9 a.m. to 5 p.m. with the last shuttle bus departing Lower Town at 6:45 p.m. More »
Weddings at Harpers Ferry National Historical Park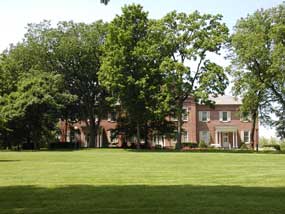 NPS Photo
Each year the park receives numerous questions and requests from couples who want to get married in the park. In an effort to accommodate these special occasions and our daily park visitors, the park has designated the lawn area at historic Wirth Hall (now commonly known as the Mather Training Center) for wedding ceremonies. Wirth Hall is located on Camp Hill near the Appalachian Trail Conference Headquarters in Harpers Ferry. (Map of Area)
This tranquil site is located on Camp Hill with the majestic Blue Ridge Mountains providing a beautiful background. The site has two parking areas, however public restroom facilities and electricity are not available. The area is located in a local residential community, therefore acoustical music is permitted, but sound systems are not.
A non-refundable fee of $50.00 (payable to the National Park Service) is required when making formal application for a Special Use Permit. Other considerations (restrictions) are outlined in the permit. Additional charges or security deposits may be assessed depending on arrangements needed.
If you would like to make formal application to have your wedding in the park, please Contact the Chief Ranger's Office at 304-535-6162.
Weddings at St. Peter's Catholic Church
St. Peter's Catholic Church is owned by the Catholic Diocese of Wheeling/Charleston, West Virginia and is not under the jurisdiction of the park. If you are interested in having a wedding at St. Peter's, please contact the church office at 304-725-5558. When your date is set, please contact the park as soon as possible to make arrangements for parking.
Did You Know?

The Appalachian Trail runs through Harpers Ferry. A short walk along the trail from the lower town to the C&O Canal will take you from West Virginia to Maryland in just a few minutes.