Temporary Suspension of Reference Collection Research

Due to the park archives and research room/library space move, new public research requests will not be filled until at least June 30th, 2014.
Change in Park Hours

The park is currently open daily from 9 a.m. to 5 p.m. with the last shuttle bus departing Lower Town at 6:45 p.m. More »
Permits
SPECIAL USE PERMIT

If you would like to hold a special event or activity in the park, you need to apply for a special use permit. A non-refundable application fee of $50.00 is required at the time of application.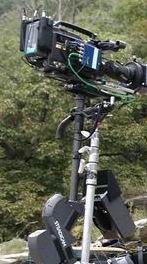 Filming in the Park
To film at Harpers Ferry NHP you need to file a completed application with the park a minimum of two weeks in advance. A non-refundable application fee of $50.00 is required at the time of application. Please note, the more complicated your project is, the longer it will take to process your request. Some projects require months to process.
Applications for Photography/Filming Permits
Filming Fees
All commercial filming permits and still photography permits are subject to cost recovery and a location fee, neither of which may be waived. The location fee is determined by the type of activity, must be based on the current schedule, and is determined by the number of permitted days and the number of people on park lands associated with the permitted activity. There is no deviation from the schedule. A day of filming is defined as a continuous 24-hour period of filming.
Location Fees: charges per day

Motion Picture/Video
1-2 people, camera and tripod only - $0/day
1-10 people - $150/day
11-30 people - $250/day
31-49 people - $500/day
Over 50 people - $750/day

Commercial/Still Photography
1-10 people - $50/day
11-30 people - $150/day
Over 30 people - $250/day


Weddings at Harpers Ferry National Historical Park

Information on getting married in the park. Read More
Did You Know?
Did you know that American poet Langston Hughes' grandmother was married to Lewis Leary,one of John Brown's raiders?