Harpers Ferry Park Guide Tours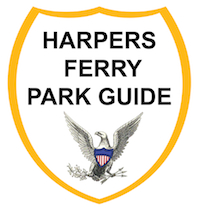 Image created by the Harpers Ferry Historical Association
Harpers Ferry
Park Guide Tours
Harpers Ferry Park Guide Tours are offered by the Harpers Ferry Historical Association in cooperation with Harpers Ferry National Historical Park.

Information about Tours
The standard tour is 2.5 hours in length.
A certified Park Guide provides an in-depth private tour of Harpers Ferry, including battlefield areas and significant historic locations in the park.
A Guide will meet you at the Park Visitor Center and step on your bus or drive your vehicle.
All park themes are interpreted, including geography and natural history; the John Brown Raid and Civil War; Storer College, Niagara Movement, and freedom story; transportation, waterpower, and industry.
The tour ends in Lower Town where you are free to explore on your own and visit the museums and bookshop.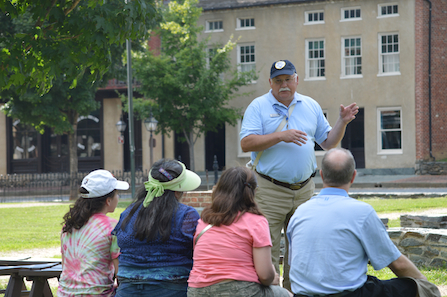 NPS Photo/Cook
Reservations & Payment
Pre-registration and pre-payment are required. To ensure a tour, please schedule your Harpers Ferry Park Guide as far in advance as possible. Fill out the
Tour Request Form
and email (hfha@earthlink.net), fax (304-535-6749), or mail it to the Harpers Ferry Historical Association (P.O. Box 197, Harpers Ferry, WV 25425).
Payment is accepted via credit card or check. Prices for tours are based on the number of people in the group. Prices are as follows:
$75 for 1-6 people; $95 for 7-15 people; $135 for 16+ people. Prices do not include the National Park entrance fee. For information about park entrance fees, please visit the
Fees & Reservations page
.
About Harpers Ferry Historical Association
The Harpers Ferry Historical Association is a non-profit cooperating association supporting the interpretive programs at Harpers Ferry National Historical Park. For more information please visit www.harpersferryhistory.org, call 304-535-6881, or email hfha@earthlink.net.