Temporary Suspension of Reference Collection Research

Due to preservation and maintenance work scheduled for the park archives and research room/library space, new public research requests will not be filled from June 1st to at least January 30th, 2014.
Change in Park Hours

Beginning November 1, the park will be open daily from 9 a.m. to 5 p.m. with the last shuttle bus departing Lower Town at 5:15 p.m. More »
Peregrine Falcon Restoration Program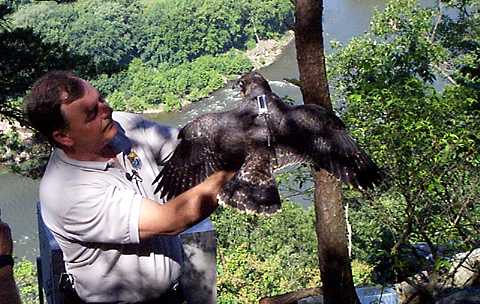 National Park Service
2004 was the fourth year of a multi-year project to restore peregrine falcons (Falco peregrinus) to an historic nesting site on Maryland Heights. In addition to peregrine falcon restoration, this project will help obtain information about this migratory raptor species using satellite technology. This is an exciting opportunity to restore a migratory raptor species to its former range at Harpers Ferry, and to understand dispersal patterns, nesting habits, migration, mortality rates and other information which are unknown about this species. Peregrines were last seen nesting near Harpers Ferry in the 1952. In 1999, the peregrine falcon was delisted as a federal endangered species. However, it continues to be listed as a state endangered species in Virginia and Maryland.
This project is part of a post-recovery program involving federal and state government agencies, private non-profit organizations, and corporations dedicated to the recovery and understanding of peregrine falcons. Without their support, the Harpers Ferry project could not take place.
Related Links:
Did You Know?

On July 14, 1896, during their first National Convention, the National League of Colored Women visited the John Brown Fort. They were the first group known to make such a pilgrimage to this site.