Ranger-guided curriculum programs are available for student, teacher, and youth/camp groups. Please visit our
Education Reservations
page for more information about scheduling your date of visit and programs at Harpers Ferry!
Below, please find descriptions about our curriculum program offerings.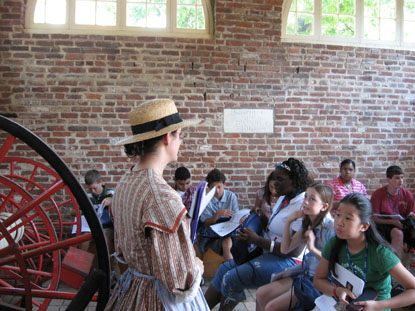 An NPS photo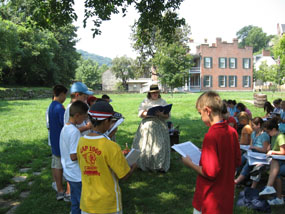 An NPS photo
Current
Ranger-Guided
Curriculum-based Programs
Nineteenth Century Lifeways K-2 grades
Students will enter into a day in the life of the past. They will find out what it was like to milk a cow, play 19th century games, use a slate and pen, take a family picture and journal their experience. The program is set up into stations. As students rotate through the stations they learn different aspects of 19th century life. This is designed to be a fun, educational, and active experience.

Trek the Trails K - 12 grades
Students participate in ranger-led hikes to some of the less-traveled places of Harpers Ferry NHP. Hikes vary in difficulty and subject relevance. Explore the river environment, climb a mountain, walk a battlefield, or discover ruins. Emphasis is on fun, physical activity, and appreciation of the natural landscape! 1 - 2 hours
Journey through Freedom 2 - 4 grades
Students follow footprints to find trunks from the past. What can artifacts tell us about people from the past? Stories are told of each individual's journey to freedom. 1 hour
Harpers Ferry: A Place in History 3 -12 grades
Students explore 250 years of the American history experience as told through the Harpers Ferry story. Teams compete to decipher truth or fiction in an interactive game format while visiting significant history sites. 1 hour (3-8), 1.5 hours (9-12)
Supplied for Survival:
Meriwether Lewis at Harpers Ferry 4 – 6 grades
Students apply the model of the Corps of Discovery to role-play as "corps" teams, make supply decisions, and solve an actual situation. Did they pick the right supplies? Will they survive? Students find out why Harpers Ferry was so significant to the great adventure that opened the American West.
1 hour
To Arms! Soldiers' Story 4 – 9 grades
What was life like for soldiers garrisoned at Harpers Ferry? What military action took place here? Why was Harpers Ferry so important? Students are "enlisted" into the infantry, issued a wooden gun and kepi, and taught drill. A soldiers' trivia competition determines what "company" will move ahead to capture the Confederate flag. 1 hour
Incident at Harpers Ferry: John Brown's Raid 4 – 12 grades
Students enter into this 19th century event through role play, primary readings, story, and a reader's theatre. The controversial issues of enslavement, defining freedom, and political action are considered.
1 hour
Under Fire: A Civil War Story 4 – 12 grades
When the Civil War began in April 1861, the citizens of Harpers Ferry suddenly found themselves in a very dangerous place - a border town. What were the residents to do? Student teams role play real families from the town's past and make the decision to either stay in the town or leave Harpers Ferry. As students move through time and place, students discover what actually happened to "their" families. 1.5 hours
One Thousand Days 6 - 12 grades
For well over one thousand days, from early 1862 until the end of the war, the Union army occupied Harpers Ferry. As such, the civilians lived here under the sometimes harsh conditions of martial law. Students are given identities of civilians, soldiers and spies, and learn about some of the events that took place in Harpers Ferry during the Civil War. 1 hour
Black Voices 9 – 12 grades
Students explore the story of the African-American experience through situation and response. As they travel through place and story, students discover how individuals met the challenges from enslavement to civil war to civil rights. 1.5 hours