Living History Internships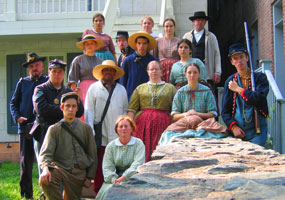 National Park Service Photo
A Living History Internship includes conducting historic research, and planning and delivering public history talks and tours while in costume. Interns provide information, orientation and interpretation to thousands of park visitors. The internship involves in-depth study of 19th century American history focused on the nationally significant resources of the Harpers Ferry area, including John Brown, Civil War, African American history, industrial history, transportation history, landscape history.
The Living History program offers three seasons for Internships: Spring, March through May; Summer, 12 weeks May through August; and Fall, September through November. Park housing is available.
Knowledge, Skills and Abilities Required:
A keen interest in and knowledge of 19th century American History, public speaking skills, basic research skills, ability to organize large amounts of information, ability to work cooperatively with others in a stressful environment, ability to follow directions and handle controversial issues with tact and in a professional manner, ability to tolerate summer heat in costume for extended periods of time. Duties include studying assigned research materials and artifacts, developing an accurate, working knowledge of 19th century American history, assisting in preparing and presenting special events, performing third-person, living history interpretation, supporting the black powder historic weapons demonstration program, researching, developing and presenting interpretive programs and historic trades demonstrations of 18th and 19th century small arms, Civil War era artillery, early republic to Civil War era bee-hive oven baking, leading horse and wagon guided tours, historic kitchen gardening & blacksmithing.

Contact for more information: Phone: 304-535-6063; Email: melinda_day@nps.gov Apply with resume, cover letter and three references that can verify your experience in public history (include their names & contact information only, no reference letters are required). Application Deadlines: The Spring Internship application deadline is Feb 14th. The Summer Internship application deadline is March 1st. The Fall internship application deadline is August 1st. Applications must be postmarked by the due date, or received via email by the due date. In the cover letter and resume, please: document your related experience to demonstrate your commitment to the field of public history. Indicate if you need park provided housing and if your internship is for school credit and the number of credit hours required by your school. If applicable, provide your advisor's name and contact information. Also, feel free to express yourself, your hopes and expectations in the cover letter. If not selected for this internship, please indicate in your cover letter other park internships that you might be interested in. If you have questions about other Internship or Volunteer opportunities, please contact the park volunteer coordinator at: samantha_zurbuch@nps.gov.