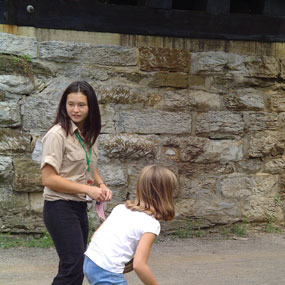 NPS Photo
The Internship focuses on the presentation of curriculum-based programs in the field. Spring and Fall interns serve school groups. Summer interns focus on a variety of summer youth groups. The internship involves in-depth study of 19th century American history and some river-based environmental science. The primary topics include the nationally significant resources of the Harpers Ferry area; John Brown, the Civil War, African American history, Industrial history, Transportation history, and Landscape history. This internship is approximately 10-15 weeks in length. Park housing may be available.
Knowledge, Skills and Abilities Required:
An interest in and knowledge of American history, public speaking skills, flexibility and creativity, basic research skills, ability to organize large amounts of information, ability to work cooperatively with others and follow directions, ability to handle controversial issues with tact and a professional manner.
Duties:
Research, develop and present interpretive programs.
Serve audiences of students K - 12 and/or summer youth groups.
Present third-person, living history interpretation.
Study assigned research materials. Develop an accurate, working knowledge of 19th century American history. Draft written responses to information requests.
Contact for more information:
Phone: 304-535-4063 or Email

Application: Apply with resume, cover letter and three references. In the cover letter, please include the following:
Do you require housing?
Why do you want to intern at Harpers Ferry?
What are your objectives?
What particular type of work you would like to do?
Dates you would begin and end an internship.
Is this internship for school credit? If so, please include the following: the number of hours required by your school, the requirements of your school's internship program, your advisor's name and contact information.
Also, feel free to express yourself, your hopes and expectations in the cover letter. If not selected for this internship, please indicate in your cover letter other park internships that you might be interested in.
Please Note: All Summer 2015 Education Internships have been filled. We are recruiting for Fall 2015 at this time. Thank you.
Dates:
Spring: 12 weeks. Applications must be postmarked or emailed by November 1st.
Summer: 10 to 12 weeks. Applications must be postmarked or emailed by March 1st.
Fall: 12 weeks. Applications must be postmarked or emailed by July 15th.