Temporary Road Closure October 5, 2014 from 5:30 a.m. to 10:00 a.m.

The G.W. Parkway will be closed from Mount Vernon Circle to Old Town, Alexandria during a footrace event. Two sections of southbound traffic will remain open to southbound traffic: Old Town to Belle Haven Rd. and Vernon View Dr. to Stratford Ln. More »
Passport to Your National Parks
Passport cancellation stamps are a fun and free way to remember all of your visits to national parks. Collect your stamps in a special book (sold at cooperating bookstores) or on park brochures, Junior Ranger books, or blank paper.
The George Washington Memorial Parkway is a passport stamp collector's treasure trove. All 32 parkway-related stamps are available at parkway headquarters on weekdays from 8 am to 4:15 pm. A selection of these stamps is also available at Arlington House, the Arlington National Cemetery Visitor Center, Clara Barton National Historic Site, Glen Echo Park, and Great Falls Park.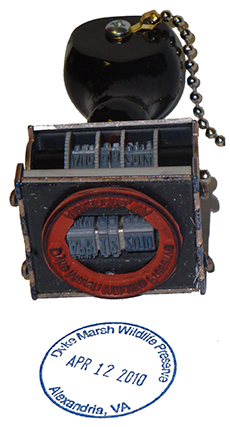 Arlington House, The Robert E. Lee Memorial
Arlington Memorial Bridge & Memorial Avenue
Captain John Smith Chesapeake National Historic Trail
Chesapeake Bay Gateways Network
Civil War Defenses of Washington
Clara Barton National Historic Site
Clara Barton Parkway
Claude Moore Colonial Farm
Dyke Marsh Wildlife Preserve
Fort Hunt Park
Fort Marcy Park
George Washington Memorial Parkway
Glen Echo Park
Great Falls Park
Greater Washington National Parks
Jones Point Park
Lyndon Baines Johnson Memorial Grove
Lady Bird Johnson Park
Mount Vernon Memorial Highway
Mount Vernon Trail
Navy-Marine Memorial
Netherlands Carillon
P.O. Box 1142
Potomac Gorge
Potomac Heritage Trail
Star Spangled Banner National Historic Trail
Theodore Roosevelt Island
Turkey Run Park
US Marine Corps War Memorial
Underground Railroad Freedom Network
Washington-Rochambeau National Historic Trail
Women in Military Service for America Memorial
Did You Know?

Arlington House was originally built as a memorial to George Washington. Construction began in 1802 and the home was finished in 1818. More...