Independence Day on the Parkway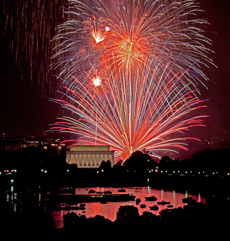 Image: DOI/Lawler
Independence Day fireworks start at 9:10 pm on July 4, 2013 and will last for about 27 minutes. They appear over the National Mall between the Lincoln Memorial and the Washington Monument.
Several parkway sites offer views of the National Mall's Independence Day fireworks display, including the Netherlands Carillon, the US Marine Corps War Memorial, Memorial Circle, Lady Bird Johnson Park, and Gravelly Point.
Please note that there are changes to the celebration this year due to sequestration. The Capitol Fourth Concert on the west lawn of the Capitol will take place, but the concert on the grounds of the Washington Monument has been cancelled. Parking on park land in Virginia is limited to Gravelly Point and the north Pentagon parking lot.
Maps
Park staff and volunteers from the American Red Cross, Shenandoah Mountain Rescue Group, and Department of Health and Human Services will provide information, first aid, and emergency cooling stations at several sites. This map shows the locations of these services.
There will be many road closures in the region on July 4:
The right northbound lane of the George Washington Memorial Parkway will be closed from I-395 (the 14th Street Bridge) to Theodore Roosevelt Island to all traffic except emergency vehicles at 6:30 am.
The ramp from I-395 south (the 14th Street Bridge) to the northbound George Washington Memorial Parkway will be closed at 8:30 pm.
Memorial Circle and Bridge will be closed to vehicles at 6:30 am.
Parking lots at Theodore Roosevelt Island and Roaches Run Waterfowl Santuary will be closed to vehicles at 6:30 am.
The parking lot at the Columbia Island Marina will be open to slip-holders only.
Meade Street and Marshall Drive (near the US Marine Corps War Memorial and Netherlands Carillon) will be closed to vehicle traffic at 3 pm.
Things to Know Before You Come
Rangers have compiled a list of tips to help you prepare for a fun, safe Independence Day.
Please note that fireworks, grills, and alcohol are prohibited at all parkway sites. For a complete list of rules, read the Laws & Policies.
Emergency Notifications
Cellphone users can receive emergency notifications during Independence Day celebrations via text message by texting JULY4DC to 888777.
For the Press
June 28, 2013
National Park Service Presents 2013 Independence Day Celebration in the Nation's Capital
The National Park Service continues its tradition of presenting an Independence Day celebration on Thursday, July 4th on the National Mall. Following the Fourth of July parade, the fireworks extravaganza beginning at 9:10 p.m. can be viewed from the National Mall, President's Park and sites along the George Washington Memorial Parkway.
Did You Know?

The two sets of golden statues that flank the Washington, D.C. end of Memorial Bridge represent the arts of war: Valor and Sacrifice. More...