Junior Ranger Day
Celebrate National Junior Ranger Day on Saturday, April 20, 2013 with hands-on activities and earn a free Junior Ranger badge.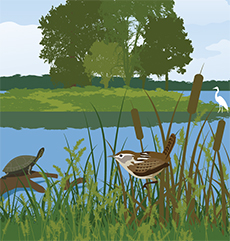 Belle Haven Park
10 am to 12 pm
Look for tents between the two parking lots
Get a close look at the top of the freshwater marsh food chain: the Virginia Raptor Conservancy will bring live hawks and owls for you to meet. Rangers will also host wetland wildlife games and provide explorer packs with binoculars, field guides, and magnifying glasses for anyone who wants to take a hike in Dyke Marsh.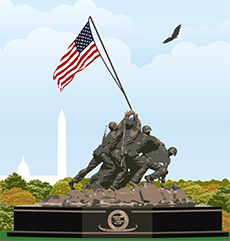 US Marine Corps War Memorial
2 pm to 4 pm
Look for a tent near the memorial plaza
Rangers will show you how to handle an American flag, host flag trivia games, and send you on a Marine Corps scavenger hunt. You can also take a fitness challenge that pits you against many of the same exercises Marines use to keep themselves in top form.
National Junior Ranger Day is part of National Park Week, April 20-28, 2013. Special programs are being held at national parks around the country.
Did You Know?

The iconic image behind the US Marine Corps War Memorial is based on a photograph of the second flag-raising (not the first) on Iwo Jima. More...