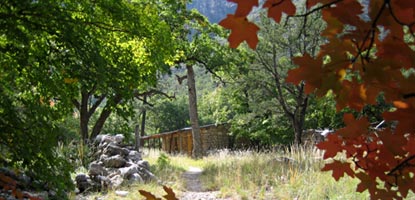 NPS Photo
Trails
Over 80 miles of hiking trails offer easy nature walks through desert flora; more moderate hikes follow canyons and reach riparian oases, and strenuous all day hikes can take you into high country forest or to the "Top of Texas". Each is unique - the magic of Guadalupe Mountains National Park awaits you. More...
Protect Park Resources
Protection of park resources is everyone's responsibility. Please contribute to the conservation efforts.
Stay on the trail; cutting switchbacks causes unnecessary erosion.
Carry out all litter, including cigarette butts, and toilet paper.
Removal of any resource is illegal. Take nothing except memories and photographs; leave only footprints.
Visit Safely
Consider the climate, consider the terrain, and prepare to enjoy both.
Bring food and plenty of water.
Wear sunscreen and a hat.
Carry a trail map.
Anticipate sudden weather changes and pack protective clothing such as rain gear.