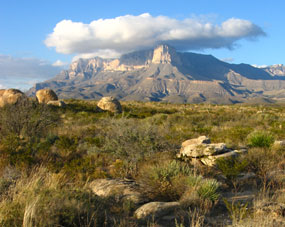 Photo Credit - Dustin Nelson
Although the approach to Guadalupe Mountains National Park from any direction offers a spectacular view of the towering mountain range and its vast surrounding desert, once you reach the park, there are no scenic drives through its interior. Park roads only provide access to the Pine Springs Visitor Center and Pine Springs Campground, the McKittrick Canyon Contact Station, Frijole Ranch, Williams Ranch (4X4 only), Dog Canyon, and trailheads.
Most visitors enjoy the park by hiking along one of over 80 miles of trails. There are two trails that are short, paved and easy, several that are level, but rocky (rated moderate), and many long hikes that are steep, rugged, and strenuous. Trails lead to Guadalupe Peak, the highest point in Texas, around the base of El Capitan, up into the highcountry, and into McKittrick Canyon. Self-guided nature trails are located at McKittrick Canyon (McKittrick Canyon Nature Trail), the Pine Springs Visitor Center (Pinery Trail), and at Dog Canyon (Indian Meadow Trail).