Williams Ranch Road Closed

The Williams Ranch Road is currently closed due to flood damage. All trails in the park are currently open. For more information on closures call 915-828-3251.
Schedule Of Events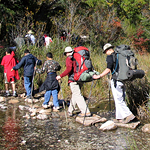 Join a park ranger or a dedicated volunteer for a special activity, talk, guided hike, or evening program about the unique natural and cultural resources of the park. A variety of activities will be offered during March (spring break), throughout the summer, and during fall colors (late October/early November). Programs vary, so check at the Pine Springs Visitor Center for a current schedule when you arrive.


Did You Know?

The long narrow leaves of the desert willow (Chilopsis linearis) gives it its common name, but it is not a true willow. It is beautiful when in bloom, and provides valuable nectar for hummingbirds, butterflies, bees and other insects.