Partial park closures from flood damage.

Most trails and roads in the park have reopened. Current closures include the Frijole Foothills Loop, McKittrick Ridge, the northern El Capitan Trail section leading to Williams Ranch, and the Salt Basin Dunes Road. Call 915-828-3251 for info.
Schedule Of Events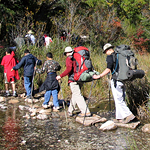 Join a park ranger or a dedicated volunteer for a special activity, talk, guided hike, or evening program about the unique natural and cultural resources of the park. A variety of activities will be offered during March (spring break), throughout the summer, and during fall colors (late October/early November). Programs vary, so check at the Pine Springs Visitor Center for a current schedule when you arrive.


Did You Know?

Desert coyotes feed on delicacies such as crickets, quail, cactus fruits, rodents, and carrion. Weighing half as much as coyotes elsewhere, they have shorter, thinner, and paler fur which not only blends with the barren landscape, but also helps dissipate heat.