Area Attractions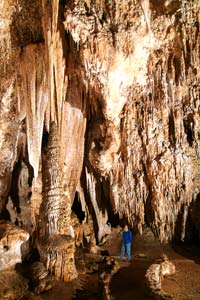 Jones
Carlsbad Caverns National Park
Be sure visit our sister park, Carlsbad Caverns National Park. It is located South of Carlsbad, NM. It is a great park to visit and take in the awe of a cave system. From the large "Natural Entrance," to the evening bat flight, it has many wonders to enjoy.
The Living Desert Zoo and Gardens State Park
At the northern edge of Carlsbad, New Mexico sits a hidden treasure. Home to more than 40 native animal species and hundreds of succulent plants from around the world. While on the 1.3 mile self-guided tour, visitors discover many faces of the Chihuahuan Desert, from sand dunes and pygmy forest to the desert floor.
Did You Know?

Hummingbirds are often described as "flying jewels" – for good reason. Most males have feathers in their gorgets which shine with a rich, jewel-like iridescence when light hits them. Guadalupe Mountains National Park is host to at least 8 species of hummingbirds, 4 of which are known to nest here.