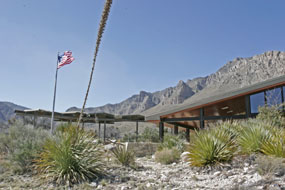 Photo - Courtesy of Dustin Nelson
Is it always this windy?
The winds at Guadalupe Mountains National Park are legendary. Winter and spring tend to be the windiest seasons with sustained winds in the 30+ miles per hour range and gusts exceeding 70 miles per hour. As spring approaches, windy days become increasingly more frequent. Summer and early fall offer respite from the wind with speeds often being only 5-15 miles per hour.
Wind as a weather phenomenon is due to differences in air pressure. Areas of high pressure cause winds that blow toward areas of low pressure. Wind direction is altered by large scale factors such as the earth's rotation and small scale factors such as local topography. The Headquarters Visitor Center at Pine Springs is situated at the top of Guadalupe Pass, which acts as a funnel with the prevailing west and southwest winds. Most storm systems (low pressure areas) tracking through the Southwest, do so in the northern portions of Arizona and New Mexico. As the systems move through the region, winds increase in the park. Strong winds in winter can be associated with cold fronts moving down the Great Plains and the eastern face of the Rockies.