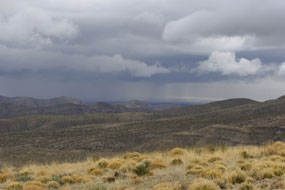 NPS Photo - Courtesy of Dustin Nelson
When is the rainy season?
Over half of the yearly precipitation falls in the months of July, August, and September. This seasonal rainfall is referred to as a monsoon. Typically, on a summer afternoon cumulus clouds start to build. Often, some of these will build high enough to develop into thunderstorms bringing lightning and rain. Many times these are isolated occurrences so that only a small area is affected. Scanning the horizon in late summer usually reveals one of these storms somewhere in the distance. The rainfall is short lived and storms miles away may never reach the park. However, with its higher elevation, the mountains generate more storms than the surrounding lowlands. As warm air rises up the slopes, it cools and reaches its dew point, thus allowing clouds to form and precipitation to occur. Moisture for the region is derived from two large scale influences. A high pressure area over southeastern Colorado and the Panhandle of Texas circulates air in a clockwise motion. This motion draws humid air that has moved inland from the Gulf of Mexico. Low pressure over southern California rotates air in a counterclockwise motion, sending moist air from the Pacific Ocean into the Southwest.