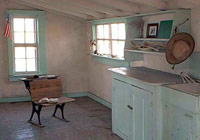 NPS Photo
The red schoolhouse was built with vertical wood siding and a low pitched roof covered with corrugated tin. Up to eight children from the Smith family and local ranches once attended school there. The Smiths provided room, board, and a horse, in addition to a $30.00 per month salary for the teacher. Later, the schoolhouse served as a storage shed and bunkhouse.
Frijole Ranch House has seen many changes in lighting since its construction in 1876. Originally lit with tallow candles and kerosene lanterns, the Smiths installed a carbide lamp system, which produced acetylene gas that was piped through the house. This advance was followed by battery-powered lights charged with a wind generator. Today, of course, the house is lit with electricity, perhaps waiting for yet another technological advance.
As the only major building complex in the region for several decades, Frijole Ranch served as a community center for dances and other social gatherings, as well as the regions official post office, from 1916 to 1942. Although not built until 1950, the present barn complements the other buildings and is of wood frame construction. Today park livestock use the barn. A stone masonry wall encloses most of the Frijole complex.
In 1942, after 36 years, John Smith sold the Frijole Ranch house and associated property to Judge J.C. Hunter for the price of $55,000. He then moved with his family to Hawley, Texas, near Abilene.
Jesse Coleman (J.C.) Hunter first moved to Van Horn, Texas in 1911, to serve as Superintendent of Schools. J.C. Hunter also served as Director and Vice President of the Van Horn State Bank, was a Culberson County Judge and Treasurer, was successful in the oil and gas business, and he was a rancher. J.C. Hunter began buying land in the Guadalupe Mountains in 1923 and by the 1940s he owned 43,000 acres, including John Smith's Frijole Ranch. His "Guadalupe Mountains Ranch" concentrated on raising Angora goats, sheep, cattle, and horses. At one time, 22 tons of mohair wool were produced annually by 4000 Angora goats. The mountain high country was used as summer range for livestock; water pumped from lowland springs by pipeline to metal storage tanks on top was crucial to its survival. The Frijole Ranch house served as ranch headquarters for J.C. Hunter's foreman, Noel Kincaid and his family from 1942 to 1969.
Hunter was an early conservationist and initiated the first attempts to make the region a park in 1925. The idea failed to gain momentum and was dropped. Because Hunter continued to hope for a park in the future, he permitted only limited hunting on the ranch and allowed no grazing in McKittrick Canyon. Under his stewardship, elk, turkey, and rainbow trout were returned, or introduced, to the Guadalupe Mountains ecosystem.
In 1945, J.C. Hunter's son, J.C. Hunter, Junior, inherited the ranch. Although mayor of Abilene and a successful oil man, Mr. Hunter took an active interest in his lands in the Guadalupe Mountains. By 1965 he had purchased additional lands and the Guadalupe Mountain Ranch totaled 67,312 acres. In 1966, he fulfilled his father's dream and sold the ranch to the National Park Service, at the bargain price of $1.5 million, or about $22 per acre.
From 1969 to 1980, the ranch house served as a ranger residence. During the next three years, rehabilitation and renovation of the Frijole Ranch buildings was completed by the National Park Service. Park staff used the ranch house as an operations office from 1983 until 1991. In 1992, the Frijole Ranch House was again renovated and finally opened to the public as a history museum.
Today's Frijole Ranch Cultural Museum is on the National Register of Historic Sites. The National Park Service will continue to preserve Frijole Ranch so that future generations may come to appreciate our diverse heritage.