Partial Closure on Horn Island

Small portion of Horn Island, Mississippi, closed to entry due to discovery of asbestos and possible other bio hazards. Click on more for map and press release. More »
Santa Rosa Day Use Area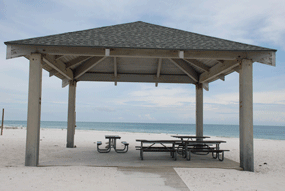 Santa Rosa Area (Opal Beach) is located in between Navarre Beach and Pensacola Beach on the Santa Rosa Island, J Earle Bowden Way.
Santa Rosa, part of Gulf Islands National Seashore, is a fragile barrier island made up largely of fine quartz sand held together by plants adapted to this harsh environment. It provides habitat for many shorebirds, small animals and nesting sea turtles. the grass beds of the sound are the nursery ground of 95% of all commercially harvested marine species.
Facilities at Opal Beach are open daily from 8:00 a.m. to sunset. An entrance fee is charged for visitors to Opal Beach from Memorial Day weekend through Labor Day.
Picnic Shelters are at Opal Beach. Pavilion Cluster B, C, and F are available for general use on first-come, first-served basis. Clusters A and D may be reserved by calling (877)444-6777 or visit www.recreation.gov.
It is a seven mile hike from the west end to the east end. Visitors can enjoy fishing, bird watching, shell collecting, swimming, or photography.
Did You Know?

The Third System fortifications consisted of 42 forts built between 1816 and 1870. They were used to guard all the principal harbors, rivers, and naval yards of the United States. Only the Advanced Redoubt of Fort Barrancas at Gulf Islands National Seashore was built entirely for land defense.