Ranger Led Programs in the Mississippi District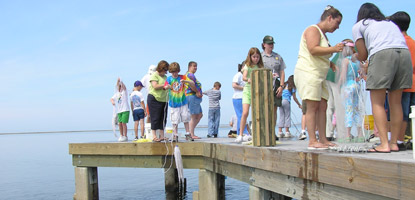 NPS photo
­­­Gulf Islands National Seashore Announces
GulfIslandsNational Seashore Announces
May 2010 Programs
Join a ranger for Great Gyotaku on May 23, at 2:00 p.m. Gyotaku is a traditional form of Japanese fish printing used by fishermen to record their catches. Supplies are provided for this hands-on activity. Meet at Pavilion #4 for this family-friendly activity.
On May 30 at 2:00, join a ranger for Trees in the Forest. This half-mile walk will teach visitors how to use leaves, needles, bark, and seeds to identify trees. Meet at the William M. Colmer Visitor Center.
GulfIslandsNational Seashore Announces
June 2010 Programs
"We encourage the public to take advantage of free program opportunities in the Davis Bayou area of Gulf Islands National Seashore" says Nina Kelson, Acting Park Superintendent.
Sea Star programs will be offered on Saturday, June 12, 19, and 26 at 10:00 a.m. at the William M. Colmer Visitor Center.These programs are for children ages 3-5 and include: stories, crafts, songs, and learning about the park animals!
Celebrate National Trails Day by learning to navigate the wilderness with a ranger during the June 5th Orienteering program. Meet at Pavilion #2 in the picnic area at 10:00 a.m. for this one hour workshop and learn the basic map and compass skills. The workshop will end with a run through the orienteering course located in the Davis Bayou campground.
On June 13th at 10:00 a.m. join a ranger for Bike the Bayou. This easy one hour ride meets at Pavilion
#4 in the picnic area. Prior sign up is required, so please call 228-875-9057 beginning June 7 or stop by the park to sign up.
On Sunday, June 20th at 2:00 p.m. Gulf Islands hosts Kathy Shelton, South Mississippi Conservation Program Biologist. Ms. Shelton of the Mississippi Museum of Natural Science will share information on various projects in Mississippi, such as Gopher frogs, plover and peregrine surveys, and gopher tortoise management.
On Sunday, June 27th at 2:00 p.m. come relax and enjoy a double-feature with Bill Nye the Science Guy on DVD in the William M. Colmer Visitor Center auditorium. Animal Locomotion and Mammals will be shown back to back. Together the DVDs last about one hour.
Passenger ferry services to West Ship Island continue daily. Ferries depart from the Gulfport Small Craft Harbor at the intersection of U.S. Highways 90 and 49. Contact Ship Island Excursions at (228) 864-1014 for more information.
Fort Massachusetts Tours on West Ship Island are offered daily at 10:30 a.m., 1:30 p.m. Learn why Fort Massachusetts was built on Ship Island and what it was protecting. Meet inside the fort. Check with the ranger on duty for additional activities or call 228-875-9057, extension 4100 for more information.
The William M. Colmer Visitor Center is located off U.S. Highway 90 East in Ocean Springs and is open daily from 8:30 a.m. to 4:30 p.m. For more information about Gulf Islands National Seashore and programs offered, call 228-875-9057 ext. 4100 or visit the park's website at www.nps.gov/guis.
NPS