Partial Closure on Horn Island

Small portion of Horn Island, Mississippi, closed to entry due to discovery of asbestos and possible other bio hazards. Click on more for map and press release. More »
Shorebirds Nesting Near Roads - 20 mph

Shorebirds are nesting near roads and cross the road regularly. Observe posted speed limits and be alert for tiny birds on the roads. Last year 155 birds were killed on park roads, help us reduce the mortality rate of these beautiful birds and go slow.
Perdido Key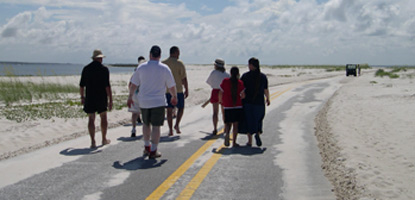 nps photo
Perdido Key is a day use area opened from 8 am to sunset and is located off Florida Route 292 southwest of Pensacola. Turn east on Johnson Beach Road.
Swimming, boating, fishing, hiking, and primitive camping are available year-round.
Did You Know?

Of the seven species of sea turtles, four species nest at Gulf Islands National Seashore. Sea turtle hatchlings instinctively head for areas of brighter light. Artificial lighting causes thousands of hatchling deaths each year.