Partial Closure on Horn Island

Small portion of Horn Island, Mississippi, closed to entry due to discovery of asbestos and possible other bio hazards. Click on more for map and press release. More »
Shorebirds Nesting Near Roads - 20 mph

Shorebirds are nesting near roads and cross the road regularly. Observe posted speed limits and be alert for tiny birds on the roads. Last year 155 birds were killed on park roads, help us reduce the mortality rate of these beautiful birds and go slow.
Naval Live Oaks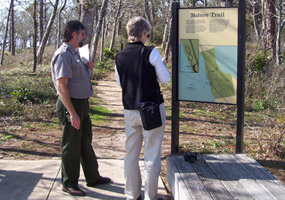 nps photo
The Naval Live Oaks Area, located on U. S. 98 east of Gulf Breeze, is open daily (except Christmas Day) from 8:00 a.m. to sunset. The Visitor Center is open daily from 8:30 a.m. to 4:30 p.m. and features a bookstore, exhibits, and a closed-caption 12-minute orientation film.
New exhibits at the Naval Live Oaks Visitor Center provide a wide range of accessibility features, including telephone handsets for au­dio description, a tactile model of an oak tree, and natural history objects.There are over 7.5 miles of trails including the .8 mile Breckenridge Nature Trail behind the Visitor Center. A covered picnic pavilion is available on a first come, first served basis and additional picnic tables are located nearby. Enjoy your lunch while enjoying the sparkling waters of Santa Rosa Sound! The Santa Rosa Sound shoreline is a wonderful option for people with small children who want to avoid the rough surf at the beach. The shallow, protected waters provide hours of swimming fun! Restrooms and outdoor showers are available.
A group camping area is on the north side of Naval Live Oaks. It is available for organized youth groups. This is a great campsite complete with a covered picnic pavilion, restrooms, and outdoor showers. Northside pavilion picnic area is open for reservations. Call 850-934-2605.
Did You Know?

The stunning sugar white beaches of Gulf Islands National Seashore are composed of fine quartz eroded from granite in the Appalachian Mountains. The sand is carried seaward by rivers and creeks and deposited by currents along the shore.