Mississippi Island Camping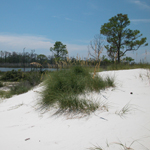 nps photo
Primitive camping is allowed on these wilderness islands--Horn and Petit Bois plus East Ship Island and the public section on Cat Island. Camping is prohibited on West Ship Island.
Visitors can enjoy hiking, fishing, beachcombing, swimming and birdwatching on these picturesque and tranquil islands. During the osprey nesting season visitors will notice "Area Closed" signs. These signs protect the osprey and help visitors select appropriate camping locations. Please check the Horn, and East Ship Island maps for "Area Closed" signs. Camping groups of 11 or more must obtain a free permit from the Visitor Center in Ocean Springs. A 20-foot or longer craft is recommended for use on the open water. Inland water craft such as bass boats and pontoon party barges are not suitable for travel to 10-12 miles from shore. Licensed boat operators are available for a fee. Campers must provide all supplies needed for their trip including extra food and water. Never camp on dune tops as this damages the plants and fragile dune formations. Fires are permitted on the beach below the high tide line. Do not build fires on dunes or in wooded areas. Insect repellent and mosquito netting are recommended as well as long sleeve shirts, pants and sunscreen. Practice Leave No Trace Outdoor Ethics. Keep a respectful distance from wildlife. Pets are not allowed on Horn or Petit Bois Islands.The use of personal watercraft (PWC) has restrictions. Please call 228-875-9057 for more information.
Did You Know?

In the 1880s, Geronimo and other members of the Chiricahua-Apache tribe were prisoners at Fort Pickens located at Gulf Islands National Seashore.