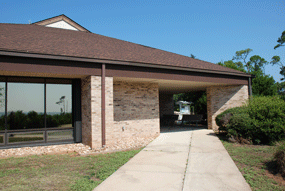 nps photo
Indoor, hands-on exhibits and a 20-minute orientation film are located at the Naval Live Oaks Visitor Center in Gulf Breeze, Fla. and is open daily from 8:30 AM to 4:30. Call 850-934-2600 for more information. Visitors to the Fort Barrancas Area located on board the Pensacola Naval Air Station can spend time learning about the Civil War in Pensacola.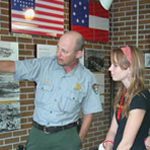 nps photo
Visitors can view a 15 minute slide program on the history of Pensacola during the Civil War, look at exhibits on the significance of the Fort Barrancas site, and browse through the Eastern National bookstore. The Visitor Center is open March-October at 9:30 am to 4:45 pm and November-February at 8:30 am to 3:45 pm. Please call 850-455-5167 for more information.
Too hot for outdoor activities? Come inside and cool off while you watch a video! All of our Visitor Centers offer films ranging from fort history to the formation of barrier islands.
Check out our bookstore for a large selection of books, post cards, games, gifts and children's items.
Try the hands-on exhibit at the Naval Live Oaks Visitor Center.