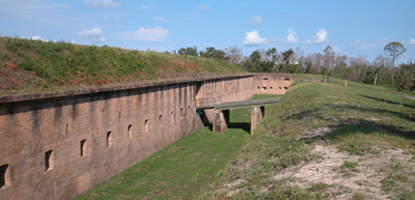 nps photo
The Fort Barrancas Area is on Taylor Road approximately a half mile east from the Museum of Naval Aviation. The area includes the historic Water Battery, Fort Barrancas, trails, visitor center, picnic areas, and the Advanced Redoubt.
Fort Barrancas sits on a bluff overlooking the entrance to Pensacola Bay. The natural advantages of this location have inspired engineers of three nations to build forts. The British built the Royal Navy Redoubt here in 1763 of earth and logs. The Spanish built two forts here around 1797. Bateria de San Antonio was a masonry water battery at the foot of the bluff. Above it was earth and log Fort San Carlos de Barrancas. American engineers remodeled the Water Battery in 1840 and built a masonry fort on the bluff between 1839 and 1844, connected by a tunnel to the Water Battery. This is the current Fort Barrancas. A $1.2 million, eighteen-month restoration project led to its reopening in 1980.
Fort Barrancas is open 8:30 a.m. - 4:30 p.m. daily. Scheduled tours of Fort Barrancas are offered throughout the year. Please call 850-934-2600 for more information.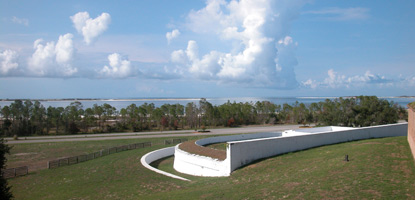 nps photo
Bateria de San Antonio stands today at the base of the barranca, or bluff, just below Fort Barrancas. While retaining some of the Spanish ornamentation, the current structure includes a rifle gallery and rear wall added by U. S. Army engineers. An underground passage connects the Water Battery to Fort Barrancas.