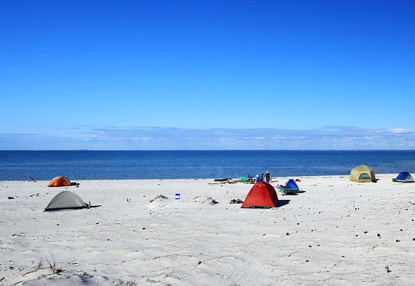 photo taken by Jason Taylor
Primitive camping is allowed in the Florida District, Perdido Key, Spoil Island (AKA Sand Island). In the Mississippi District, Petit Bois Island, Horn Island, Cat Island and East Ship Island under the following conditions:
Primitive campers arriving by vehicle or foot at Perdido Key must obtain a free self registration camping permit from the entrance station, register, and display the permit on the dash of their vehicle. All campers must camp at least 1/2 mile east of the end of the Perdido Key Road. (Park entrance fees are not included in camping)

Currently, persons arriving by vessels to camp at Perdido Key, Petit Bois Island, Cat Island, Sand Island, East Ship Island, do not need to register for a free camping permit. Groups with 10 or less people camping on Horn Island do not need to register for a free camping permit.

Large organized groups of more than 10 people must have a wilderness permit to camp on the wilderness islands; Horn, and Petit Bois.
Primitive campsites must be on relatively flat, level beaches without vegetation or dune structure being damaged. Camping on dunes, fore dunes or on vegetation is prohibited.
Primitive campers at Johnson Beach(Perdido Key) may stay no more than 42 days annually. The maximum time permitted for primitive camping in the park is fourteen consecutive days. At the end of fourteen days, campers must completely remove themselves and their property form the park for a minimum of 48 hours before returning for another overnight visit.
Camping, cooking, or other activities are not allowed in areas closed for the protection of shorebirds, osprey, or eagles, including any area within 300 yards of any nest which is being used by adult or juvenile osprey or eagle.
Fires may be built on beaches only and must be placed no more than five feet above the high tide line, and they must be below any vegetated area. Only driftwood washed up on the beaches may be burned in these fires; dead and/or down vegetation from the interior of the islands may not be used.
Authorized fires on beaches, after being extinguished with water, are to be disposed of by removing burned and unburned material from the area or by burying all materials under at least six inches of sand.