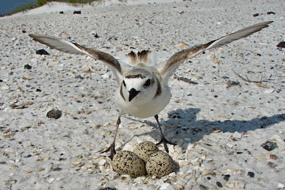 Each spring many shorebirds like least terns fly thousands of miles from South America to nest and raise their young on the Gulf Islands beaches. Some species are threatened or endangered such as snowy plovers. These adults and chicks frequent the road and shoulders to feed on insects. Please observe the 20 mph speed limit signs, and bird closures during nesting season. Help us to protect these fantastic fliers.
See Press Release on Shorebird nesting and closures and maps for new speed humps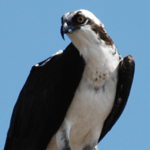 2012 Osprey Closures On Mississippi Barrier Islands
East Tip, from the east end of the treeline to the east side of Arcturus Flats.
Horseshoe Area, from the west end of Water's Pond the east side of the Horn Island Pier.
Ranger Lagoon, from 200 yards west side of the Horn Island Pier to the west end of the treeline at the Ranger Lagoon.
Chimney Area, from the Chimney Site to the west end of the treeline.
Middle Ponds Area, approximately 1 mile west of the mouth of Ranger Lagoon, where the forest meets the beach to the end of vegetation east of the mouth of Big Lagoon.
East end of the forest line west to the western most break in the trees.
300 yards around the Range Tower East of Fort Massachusetts.