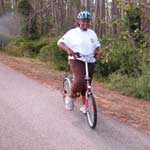 nps photo
Florida District
Naval Live Oaks
Visitors can cycle on the paved 2.5 mile section of the 40-mile bike loop that is adjacent to U. S. Highway 98.
Fort Pickens
The designated bike lane starts at the entrance to Fort Pickens up to the Ranger Station and is approximately four miles. The Florida Historical Trail starts from behind Battery Langdon and has an oyster shell top and goes to the Fort which is approximately three miles.
J. Earle Bowden Way (Santa Rosa District)
There is a designated bike lane that is approximatley seven miles in length.
Visitors can cycle on a paved road from the entrance gate to the end of the Perdido Key Road. Round-trip is approximately 5 miles.