Partial Closure on Horn Island

Small portion of Horn Island, Mississippi, closed to entry due to discovery of asbestos and possible other bio hazards. Click on more for map and press release. More »
Shorebirds Nesting Near Roads - 20 mph

Shorebirds are nesting near roads and cross the road regularly. Observe posted speed limits and be alert for tiny birds on the roads. Last year 155 birds were killed on park roads, help us reduce the mortality rate of these beautiful birds and go slow.
Bicycling Information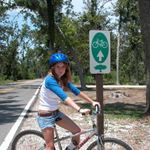 nps photo
Mississippi District
Mississippi's 15.5 mile round-trip Live Oaks Bicycle Route connects the Davis Bayou Area of the Seashore to the town of Ocean Springs at the Old Louisville and Nashville Train Depot. Follow the green and white bike-route signs on the right side of the city streets. Live Oaks Bicycling Route maps are available at the Gulf Islands Visitor Contact Station and the Ocean Springs Chamber of Commerce.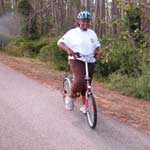 nps photo
Florida District
Naval Live Oaks
Visitors can cycle on the paved 2.5 mile section of the 40-mile bike loop that is adjacent to U. S. Highway 98.
Fort Pickens
The designated bike lane starts at the entrance to Fort Pickens up to the Ranger Station and is approximately four miles. The Florida Historical Trail starts from behind Battery Langdon and has an oyster shell top and goes to the Fort which is approximately three miles.
J. Earle Bowden Way (Santa Rosa District)
There is a designated bike lane that is approximatley seven miles in length.
Visitors can cycle on a paved road from the entrance gate to the end of the Perdido Key Road. Round-trip is approximately 5 miles.


Did You Know?

Gulf Islands National Seashore's barrier island habitats, offshore waters, and submerged resources offer a variety of recreational opportunities for people year-round.