Frequently Asked Questions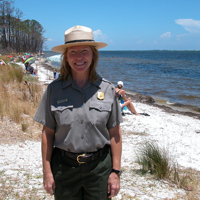 nps photo
1. Does the passenger ferry operate to West Ship Island in Mississippi from Gulfport?
Yes. Weather permitting and the passenger ferry operates daily from March through the end of October.
3. Are personal watercraft (PWC) allowed to operate in the Seashore?
Restrictions apply when operating Personal Watercraft (PWC) within the Seashore. For visitor safety, resource protection, and wilderness protection, certain areas of the Seashore are closed to PWC operation. Know the rules and regulations before you go.
4. Can sea shells be collected?
Sea shells can be picked up if there are no living creatures in them.
5. Are fireworks allowed in the park?
Fireworks are prohibited in the park.
6. Are metal detectors allowed?
Metal detectors are prohibited.