Partial Closure on Horn Island

Small portion of Horn Island, Mississippi, closed to entry due to discovery of asbestos and possible other bio hazards. Click on more for map and press release. More »
Shorebirds Nesting Near Roads - 20 mph

Shorebirds are nesting near roads and cross the road regularly. Observe posted speed limits and be alert for tiny birds on the roads. Last year 155 birds were killed on park roads, help us reduce the mortality rate of these beautiful birds and go slow.
Frequently Asked Questions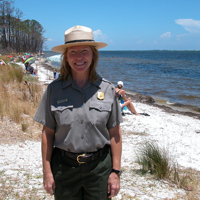 nps photo
1. Does the passenger ferry operate to West Ship Island in Mississippi from Gulfport?
Yes. Weather permitting and the passenger ferry operates daily from March through the end of October.
3. Are personal watercraft (PWC) allowed to operate in the Seashore?
Restrictions apply when operating Personal Watercraft (PWC) within the Seashore. For visitor safety, resource protection, and wilderness protection, certain areas of the Seashore are closed to PWC operation. Know the rules and regulations before you go.
4. Can sea shells be collected?
Sea shells can be picked up if there are no living creatures in them.
5. Are fireworks allowed in the park?
Fireworks are prohibited in the park.
6. Are metal detectors allowed?
Metal detectors are prohibited.


Did You Know?

Did you know that two thirds of Gulf Islands National Seashore is under water? The largest, most common, mammal in this underwater realm is the Atlantic bottlenose dolphin.