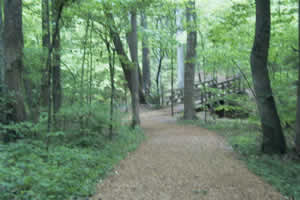 NPS
Have it your way! Explore the battlefield by automobile, bicycle, or on foot.
Eight tour stops with wayside exhibits are along the battlefield tour road. Parking for cars and buses available at each stop.
Those touring on bicycle can use the one way automobile tour road. Bicycle racks are provided at the battlefield tour stops. Please be careful when crossing Old Battleground Road and New Garden Road. Remember to travel the correct direction on the one way tour road, wear your helmet, and always yield to pedestrians.
Those who enjoy hiking can take advantage of the 2.5 miles of battlefield walking trails. Remember, you are in a National Park and may encounter wildlife on your journey. Never feed or approach any of the wildlife and report any unusual animal behavior to park staff.
However you decide to tour this special place, you will be able to enjoy the outdoors and see history come to life!
Twenty-eight monuments within the park honor Revolutionary soldiers, statesmen, heroes, and heroines. William Hooper and John Penn, two of North Carolina's three signers of the Declaration of Independence, are buried under the Signers' Monument. A large equestrian statue of General Nathanael Greene dominates the monument honoring the soldiers of the Southern Army and its leader. Visit our monuments page to learn more about the monuments and graves at Guilford Courthouse National Military Park.
For your convenience, there is a comfort station located at Tour Stop 6.