For Kids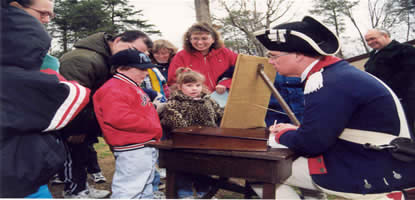 NPS
For Kids

Junior Ranger Program
Become a Guilford Courthouse Junior Park Ranger! It's hard work, but it's fun. GCHJPR work sheets for young visitors under ten years of age and over ten are available at the visitor center. Allow about two hours to complete all the requirements. Upon completion, Junior Rangers receive an official GCHJPR certificate and badge.
Boy Scouts of America Historic Trail Award
Contact the Old North State Council, BSA, for test sheets and instructions, or click here. Then call (336) 288-1776, ext. 228, to schedule your den's or troop's park visit. Old North State Council, BSA, is headquartered at 1405 Westover Terrace, Greensboro, NC 27408. Telephone: (336) 378-9166. All awards and patches are available at the Council Headquarters.


Did You Know?

Nathanael Greene, the future American general who emerged from the Revolutionary War second only to George Washington in the pantheon of American military heroes, began the war as a private in a Rhode Island militia company carrying a musket he had purchased from a British deserter from Boston?