Indoor Activities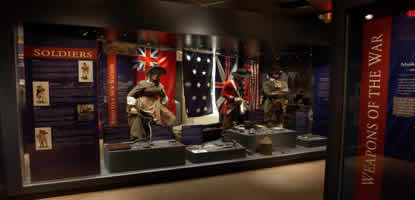 NPS
Welcome and come on in!
Begin your park visit at the visitor center. Here, you will find information on the park and the battle. Rangers or volunteers at the information desk are glad to help you with answers and assistance.
Experience the award winning exhibits and audio visual programs that will help you learn about the Battle of Guilford Courthouse. They include a thirty-two minute live-action theater film, "Another Such Victory" (shown on the hour); a ten-minute animated Battle Map Program explaining the tactics of the battle (shown on the :15 and :45 of the hour); and colorful museum exhibits combining informative text with original artifacts and weaponry.
A twenty-minute tactile Battle Map program is available to any sight-impaired visitor.
Also in the visitor center is a bookstore (operated by Eastern National) offering visitors over 600 publications and theme-related items for sale on the battle and the Revolutionary War.
A narrated automobile tour of the battlefield on CD is also available for sale. Bookstore hours are the same as the visitor center.


Did You Know?

The third of North Carolina's signers of the Declaration of Independence, Joseph Hewes, died in Philadelphia in 1779 and was buried in Christ's Church Yard. In the 1890's when his remains were being sought, the park's founders were told the actual site of his grave was unmarked.