Seasonal road closures in effect

Seasonal road closures are in effect for motorized vehicles. The Teton Park Road is closed from the Taggart Lake Trailhead to the Signal Mountain Lodge. The Moose-Wilson Road is closed from the Granite Canyon Trailhead to the Death Canyon Road. More »
Avalanche hazards exist in the park

Avalanche hazards exist in the park, especially in mountain canyons and on exposed slopes. A daily avalanche forecast can be found at www:jhavalanche.org or by calling (307) 733-2664. More »
Special Programs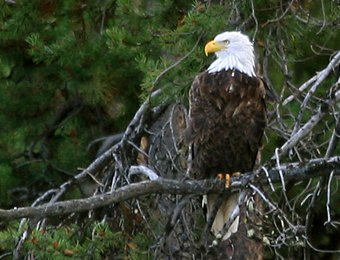 Dan Ng photo
Grand Teton National Park invites you to join Park Ranger Andrew Langford on a bird-watching caravan on Saturday, May 11, 2013 to celebrate International Migratory Bird Day (IMBD). During his event we will visit areas throughout Grand Teton that provide the best opportunities to locate, identify and record birds.
Anyone interested in birds is welcome to participate. The bird-watching excursion begins at 8 a.m from the Craig Thomas Discovery and Visitor Center in Moose and finishes by 4 p.m at Christian Pond by Jackson Lake Lodge.
The activity is free and reservations are not required. Throughout the day, participants will take short walks at various locations. Participants may join the caravan anytime during the day, a schedule of the times and locations visited is available from the Craig Thomas Discovery and Visitor Center in Moose.
Those attending should wear comfortable shoes and bring a lunch, drinking water, warm clothing and rain gear. Bird field guides, binoculars and spotting scopes are also recommended items.
"Life Cycles of Migratory Birds" serves as the theme for the 2013 IMBD observance. This year's theme focuses on all aspects of a migratory bird's life, from migration and nesting to breeding and raising young. Most importantly, it addresses the need for coservation throughout all phases of avian lives. As always, the annual conservation theme is relevant to host organizations and participants throughout the world. Participation in Grand Teton's IMBD tour offers a chance to learn about the importance of birds and their unique contribution to the health and beauty of the natural areas around the world.
Observed each year in May to celebrate and support avian conservation, IMBD serves as the hallmark outreach event for Partners in Flight - an international conservation program whose goal is to reverse declining populations of migratory birds by bringing attention to factors that contribute to worldwide declines.
For more information about International Migratory Bird Day and the North American Migration Count, please call the Craig Thomas Discovery and Visitor Center at 307.739.3399.
Participants of the IMBD activity are reminded that park entrance stations are open, therefore a park pass is required for travel through these fee stations.
Did You Know?

Did you know that Grand Teton National Park was established in both 1929 and 1950? The original 1929 park protected the mountain peaks and the lakes near the base. The boundaries were later expanded in 1950 to include much of the adjacent valley floor.